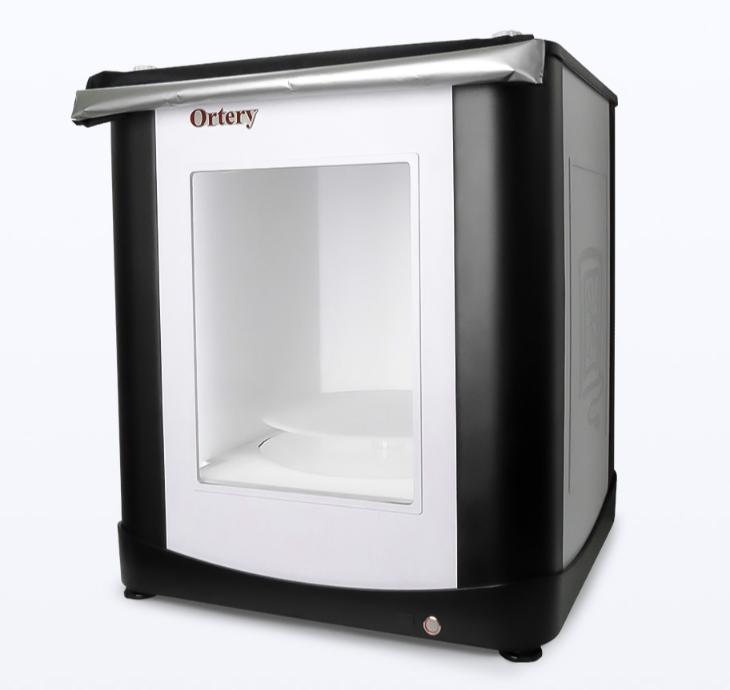 PhotoBench 140
Ortery PhotoBench 140 is a software-controlled photography lightbox accelerates 360 product photography by taking product photos & 360 animations on pure white backgrounds..

360 Product Photography Light Box and Software
This desktop 360 product photography light box integrates camera, turntable, and dimmable lighting control to accelerate and simplify product photography. It uses software to take pictures and control camera, turntable, lighting and workflow settings. Easily take 100s of professional quality product photos and 360 animations per day on pure white backgrounds for eCommerce, catalog or any application. No experience necessary. Simply place, preview and Snap. Images are automatically transferred to your monitor screen for viewing, batch editing and saving. Free product training and software upgrades available.
  Dimensions
61cm x 61cm x 71cm

  

Weight



38kgs

  

Max Object Weight



20kgs / 22kgs (on acrylic stand)

  

Max Object Size



Top Shots: 37cm x 37cm
Side Shots: 30cm x 30cm x 47cm / 35cm x 35cm x 40cm (on acrylic stand)

  

Operating System




 


SOFTWARE REQUIREMENTS  

 



COMPATIBLE CAMERAS


Benefits and Industry Use



Takes web-ready photos and 360 animations on pure white backgrounds

Takes photos and 360 animations picture on transparent backgrounds

Takes 100s of pictures & animations per day

Reduces / eliminates editing

Automatic batch editing, processing and saving

Brings product photography in house. Saves money, effort and time

Quickly creates images and interactive animations useful for eCommerce and numerous other applications
 



Still & 360 Photo Light Box Delivers Amazon Ready Results



Dimmable (5700K) LED lighting

Bottom-Lit 360 Turntable w/ Acrylic Extension Topper

50,000 hour lifespan

95+ CRI

Advanced lighting control

Large dynamic range

Individual dimming control of front left, front right, top, bottom and back

Repeatable and consistent

Accurate color

Smart light box design

Large shooting area

Takes top and side shots

Optional side diffusion panels

Side door for easy product placement
Product Photography Software Workflows
Software controls the entire product photography workflow – capture to publishing – one program does it all

Efficient photography workflow

Integrates hardware and software capabilities

Accelerates and simplifies product photography

Optimizes results

Place an object inside. Use the software to adjust camera and light settings. Compose images on your monitor screen. Click Snap and the picture immediately appear on your monitor screen for batch editing, processing and saving

Save and Re-use Optimized Camera and Light Settings

Output RAW, JPG, TIFF, PNG, MOV and MP4 files

Automatically knock out backgrounds. Replace them with any color or image
 "The simplicity of this easy-to-use, all-in-one system provides the average business with the ability to create their own professional quality product photos and 360 animations in-house."




SAM SHEARER

ORTERY.com