JEWELRY PHOTOGRAPHY
HOME > Jewelry Photography
Automate Jewel Photography Process
Ortery manufactures professional still, 3D and 360 jewelry photography equipment where software controls every step in the process. Best camera, lighting, editing and 360 turntable settings can be reused to increase photography speed and consistency. Jewelers use our light boxes and photography turntable equipment in house to take professional focus stacked images and to create interactive 360s, videos and 3D animations of rings, hanging necklaces, loose diamonds, gemstones, bracelets, watches and more.

Jewelry Photography,


Smarter.

GET YOUR JEWELRY PRODUCTS ONLINE AND IN SHOPPER'S CARTS, FAST.

Aside from your design, you're judged solely on the belief that the quality of the photographs depicting the jewelry on your site is accurate and that "The picture does the product justice".


For jewelry stores and eCommerce shops with little or no photography experience, our modern jewelry photography solutions make taking professional shots of jewelry – necklaces, rings, bracelets, watches, loose diamonds and more – a reality.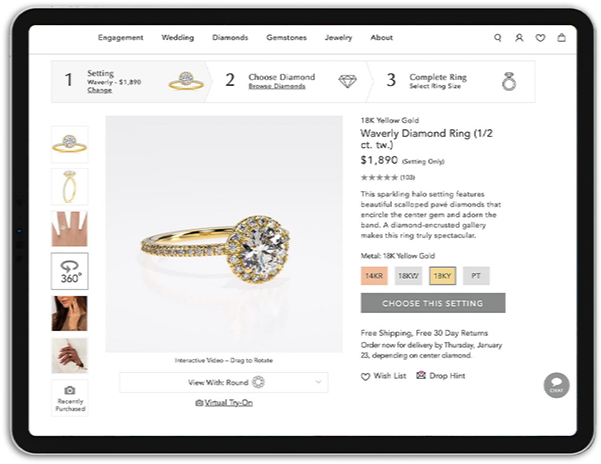 With Image Capture and Product Display Options for Still, 360 and 3D, Ortery Gives You the Flexibility to Let Your Jewelry Stand Out.
Software Controlled Jewelry Photography
Our integrated photography equipment and software help small to large jewelry businesses streamline their photography workflow. Users can take 100's to 1000's of professional product shots per day with exceptional quality and consistency - inhouse - then utilize them for any application including: eCommerce, product development, quality control, social media, catalogs and more.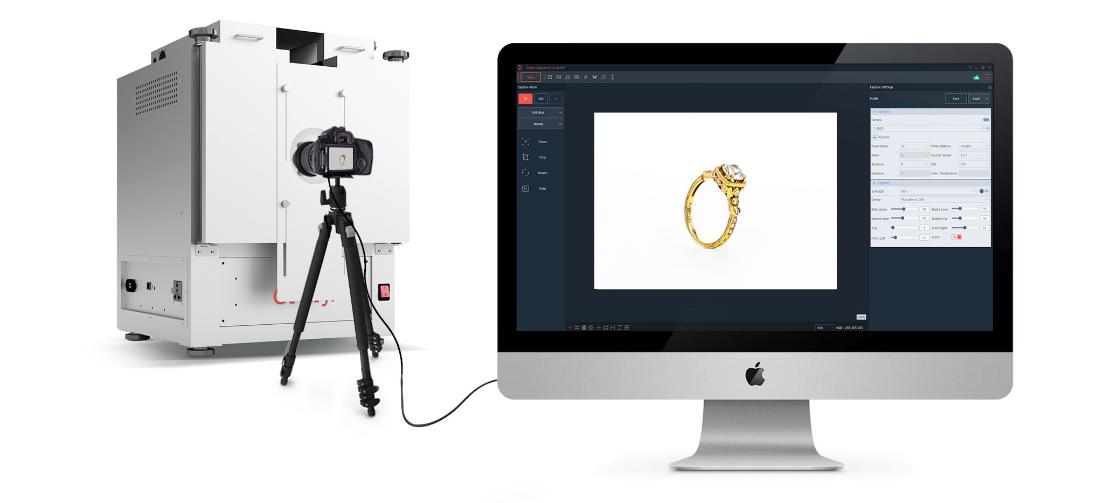 We Know Jewelry Photography
Ortery pioneered photography automation in the jewelry industry. Working with professional jewelers, jewelry designers, eCommerce stores and appraisers, Ortery has created software enhancements that help merchandise your product in the best light, with the clearest photos from every angle possible.
Still, 360 and 3D Jewelry Photography Solutions

for Jewelry & Loose Stones
Ortery's full line of jewelry light boxes, 360 turntables and 3D solutions give beginners and professionals the ability to work smarter and faster. From loose diamonds and gemstones to any type of fine or costume jewelry they cover it all.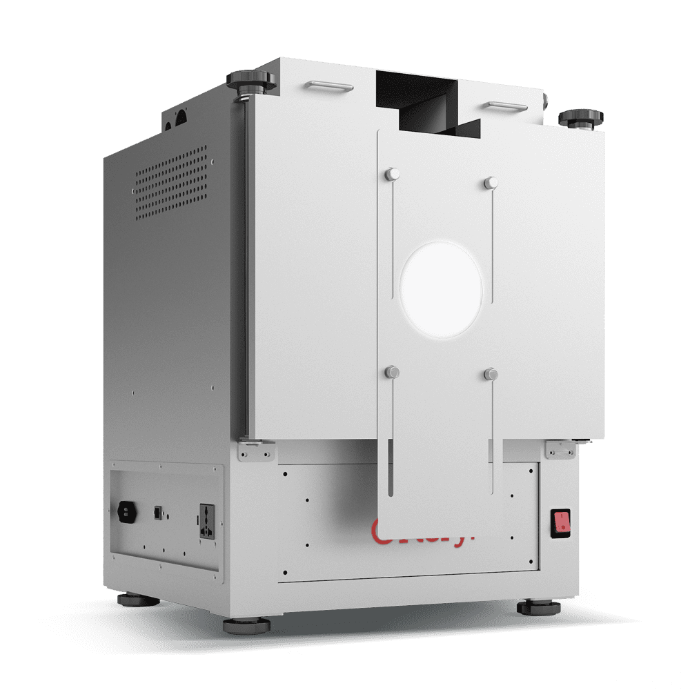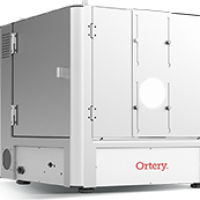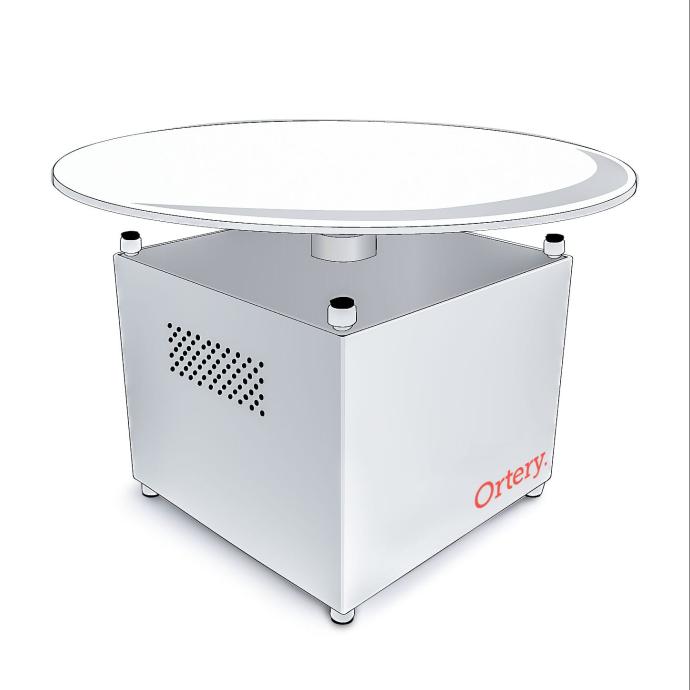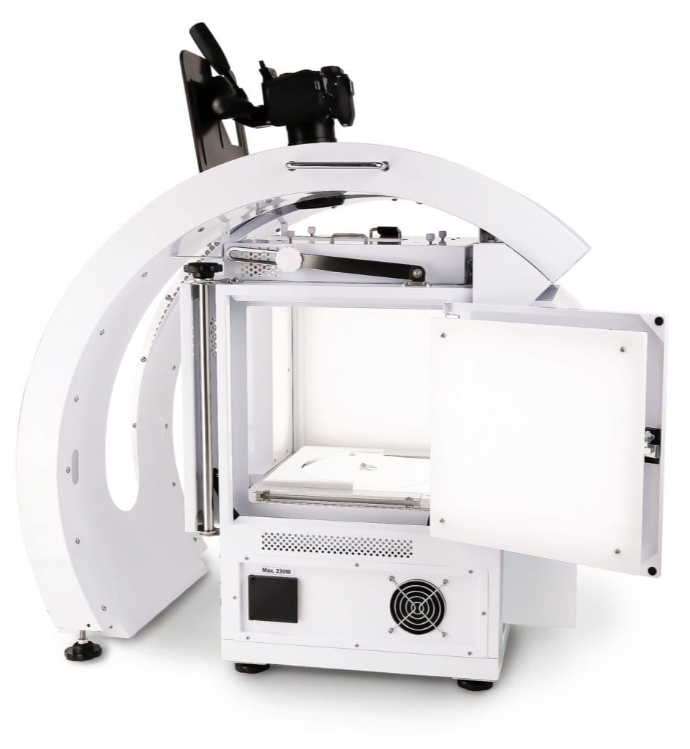 Important Features for Jewelry Photography
Exceptional LED Lighting Control from Multiple Angles

Incremental Dimming, 5700K, 95+ CRI, 50,000 Hour Lifetime

Computer Controlled Photography

Maximum Photography Speed and Consistency

Take Professional Photos with Reflection Control

Create 3D and 360 degree Jewelry Views & Videos

Color Temperature Control

Automatic Still and 360 Focus Stacking

Memorize and Re-use Best Settings

Extensive Training - Professional Support
Sparkle Lights - Create Jewelry Photos that Sparkle

Shoot on Pure White, Transparent and Lifestyle Backgrounds

Fine Focus Control for Macro Photography

Spot Color Enhancement

Batch Photo Editing, Processing and Saving

QuickShot Mode

Multiple Camera Custom Defined Capture Sequences

Integrated SAASPhoto 'Save to the Cloud' feature (optional)

Create Photography Workflows & SOPs

Easy to Use – No Experience Necessary
Jewelry Photography


for eCommerce



EASILY SHOOT JEWELRY ON PURE WHITE BACKGROUND

This all-in-one jewelry photography studio features a built-in transparent turntable and dimmable LED lighting (from all 6 sides) to make creating professional still shots, 360 product views and product videos simple and efficient.
Automatically knock out backgrounds during the photography process.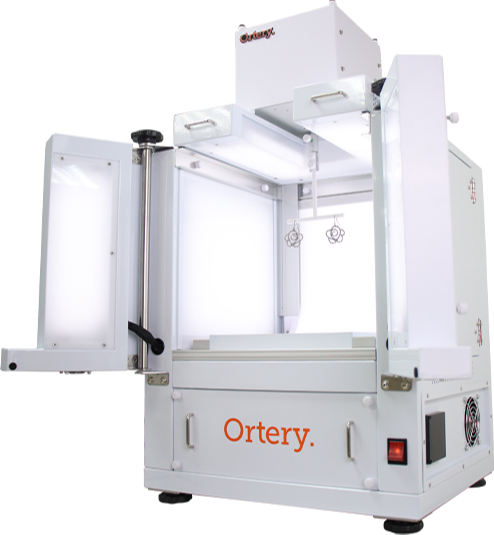 360 Jewel Photography
STUNNING 360 VIEWS OF YOUR JEWELRY PRODUCTS
Capture your designs in their best light and give your customers the satisfaction of seeing the entire product from all angles. Our studios are designed with jewelry in mind and provide the best lighting and reflection control for 360 jewelry photography. Take advantage of the 360 turntable to extend your users viewing capabilities.
Create Your Own Jewelry Videos
WHEN IT MOVES IT SPARKLES, WHEN IT SPARKLES IT SELLS.
In the jewelry industry, more and more companies are using product videos to communicate the value of their products. Videos provide a smooth, clear product view. Ortery equipment and software work together to make them easy to create and deploy.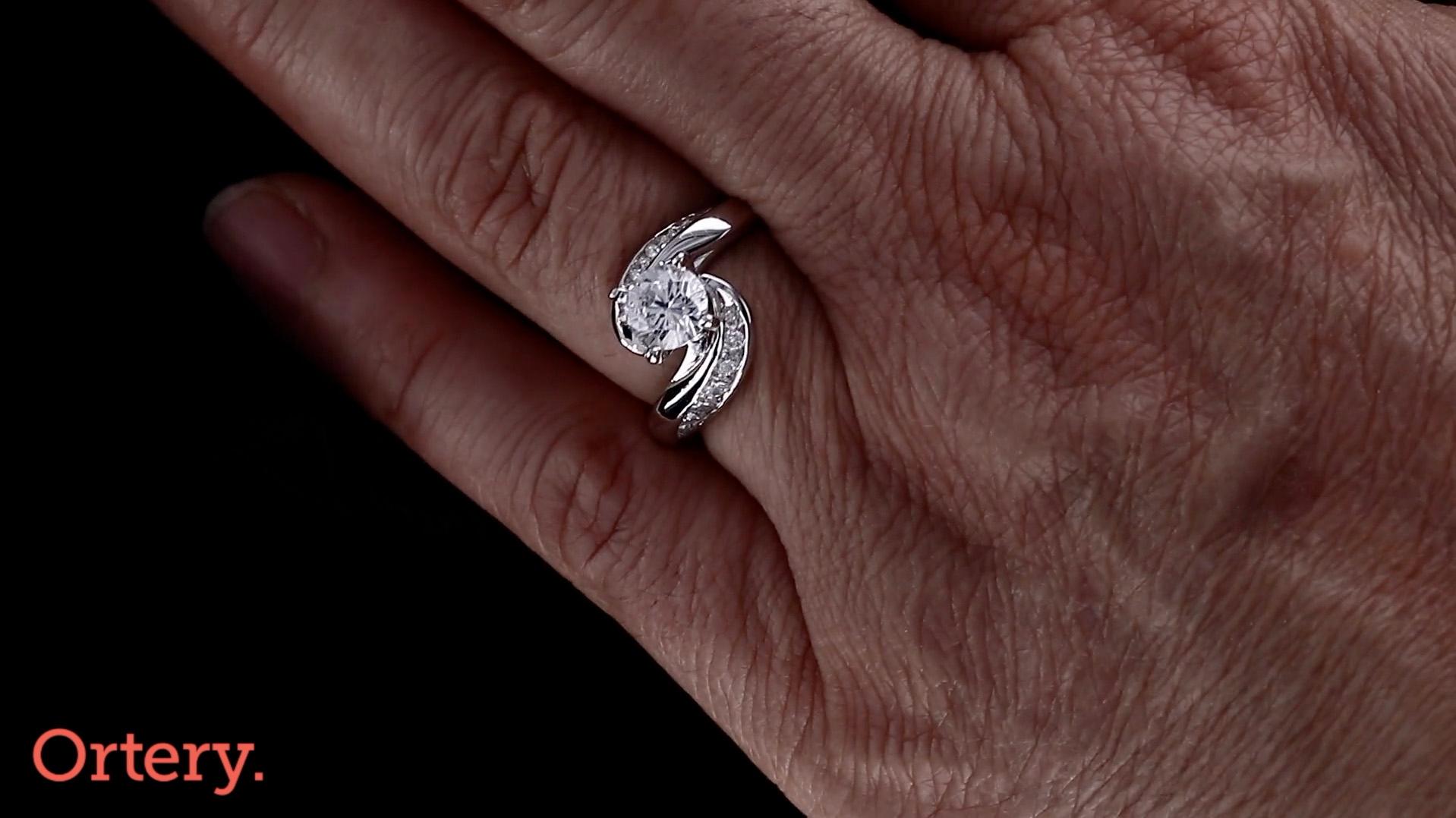 Loose Diamond & Gemstone Photography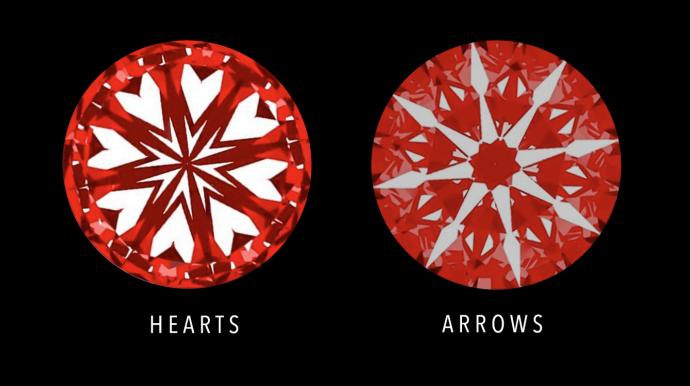 Fire, Brilliance and Sparkle
Easily capture the fire, brilliance and sparkle of a loose diamond with our 3D PhotoBench Air and 80 Air solutions. Macro photography techniques and lighting are used to capture photographs and 360 degree diamond views which can be automatically saved to the cloud for sharing and hosting. Customers and appraisers can click between the views and with interactive deep zoom they can quickly ascertain the unique characteristics of each diamond.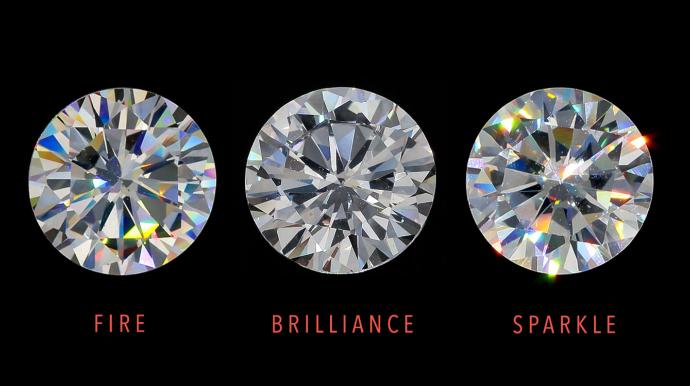 One way to show the value of a loose diamond is to show its Hearts and Arrows. The PhotoBench 80 Air and PhotoBench Air can both be used to capture this facet of a diamonds character.
360 Photos of Hanging Necklaces and Earrings
Some jewelry looks best hanging naturally. Taking hanging still shots is easy but creating good 360 degree product views is very difficult due to the vibration and product swing created by 360 rotation. Ortery's hanging 360 Jewelry turntable was specifically designed to eliminate these problems and deliver exceptional 360 jewelry photography of hanging pendants, necklaces, earrings and more. Software automates and controls the entire process.
Making Rings Stand Up
for Photography
Sick of using tack, glue and double-sided tape to hold rings up?
Ortery's ring standing kit uses air and suction to hold rings up for still and 360 photography, allowing you to efficiently capture all the angles you need while reducing setup time and editing costs.
It also helps center rings for 360 photography.

3D Jewelry Photography
3D Jewelry Photos provide a way for your customers to virtually view and experience your jewelry from every angle. It includes all the sparkle, pizzazz and details a potential customer needs to quickly make an online purchase decision with confidence.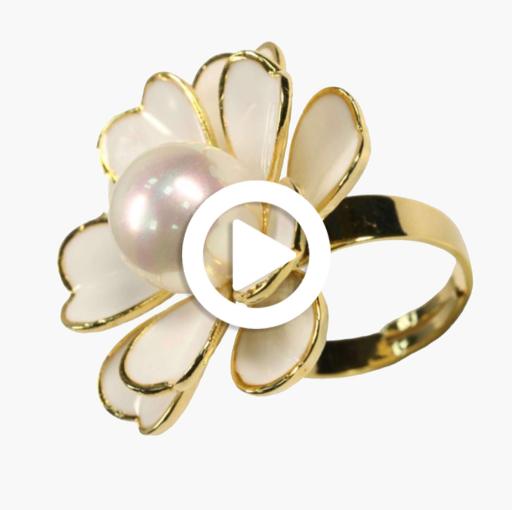 We offer professional, inhouse jewelry photography solutions for each and every type of jewelry

Our all-in-one jewelry photography systems are easy to use and offer new opportunities for unique product display

Professional lighting and photography workflows control, simplify and accelerate the entire jewelry photography workflow.

Our systems use profiles to memorize the best photography (lighting & camera), editing and saving settings for increased efficiency and for keeping critical jewelry photography knowledge in house

Unequaled customer training and support
Stand Out Above the Rest by Making

Your Jewelry Photography Your
Schedule a Demo
Shopping for a jewelry photography solution is easy when you have expert help. Let us show you what's possible.