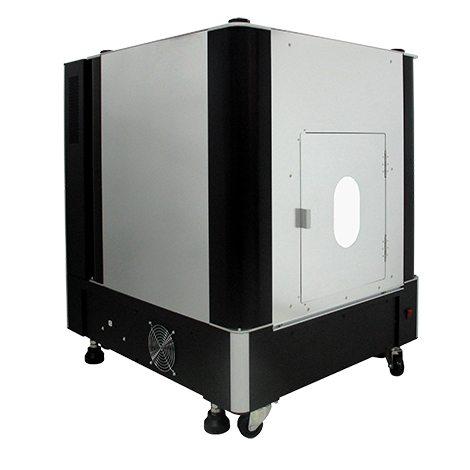 PhotoBench 160
Ortery PhotoBench 160 is a 360 modern product photography solution utilizing software to control the entire photography workflow and supporting photography equipment. 

Computer-Controlled 360 Photography Light Box
Consisting of a 87cm x 76cm x 93cmphotography studio, an edge-driven transparent turntable, dimmable LED lamps from bottom, back and corners and product photography software, the Ortery 3D PhotoBench 160 works in conjunction with a compatible Canon or Nikon dSLR camera to simplify and automate the complete product photography workflow for still, 360 and 360 video capture. By eliminating the need for significant editing and by automating image capture, processing and saving companies can save money and time each time take a picture with this solution. Simply place an object inside then use the software to compose and take pictures.
Quickly create web and print-ready product shots in RAW, JPG, TIFF or PNG format as well as 360 product views in HTML5 or GIF.

  Dimensions
84cm x 74cm x 90cm
  

Shipping Dimensions



112cm x 102cm x 89cm

  

Weight



104kgs

  Shipping 

Weight



113kgs

  Max Object Shooting Size

Top Shots: 42cm x 56cm
Side Shots: 42cm x 56cm x 56cm
360 Shots: 29cm x 29cm x 56cm

  

Operating System




 


SOFTWARE REQUIREMENTS  

 



COMPATIBLE CAMERAS


Product Highlights
87cm x 76cm x 93cm Computer-Controlled Product Photography Solution

Dimmable LED Lighting From Bottom, Back and Corners

Transparent 360 Degree Turntable (32 kgs Capacity)

Integrated Hardware / Software Creates Efficient Photography Workflow

Takes Web-Ready Images on Pure White and Transparent Backgrounds

Memorizes Best Camera and Lighting Settings for Re-use

Simplifies and Accelerates Product Photography

Creates 360 Degree Product Wiews on Pure White Backgrounds

Eliminates the Need for Most Image Editing

Focus Stacking, Batch Image Editing and Saving

Compatible with Nikon and Canon DSLRs

Consistent Results Over Time

30,000 Hour Lamp Life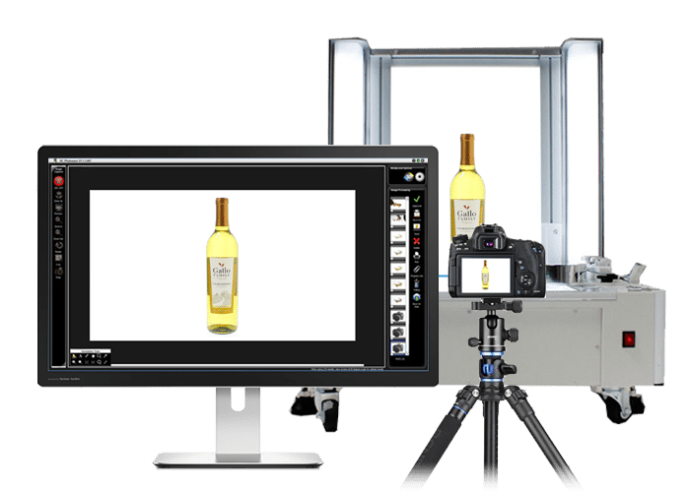 Benefits
Take product shots and 360 spin photos with pure white backgrounds

Computer-controlled photography system automates image capture and processing

Built-in transparent turntable (holds up to 70 lbs.)

Dimmable LED lighting (daylight) from front, rear, bottom, back and top

High CRI LED lamps

Create 360 spin photos in HTML5 format

Synchronized picture taking and turntable movement

One-click image capture, batch saving & stitching

Ortery TruView 360 (included) for creating 360 spin photos with deep zoom & image tagging capabilities

Large real-time preview (See everything before you take it)

Full camera control via software for compatible Canon and Nikon SLR cameras

360° Image capture by cable release for all capable cameras - custom cord required (sold separate)

Add interactive Hot Spots on 360 degree HTML5 animations



Add interactive Hot Spots on 360 degree HTML5 animations

Capture between 2 and 360 images per rotation

Confirm and Retake feature

Top and side shot capability

Achieve maximum consistently between shots with the AfterImage feature

Magnifier and zoom features for viewing still images and 360° spinning photos up close

Special design eliminates and controls reflections and hot spots

Precise turntable movement

Create and re-use still and 360 image capture profiles to increase efficiency

Multiple Camera Control

Define and save custom image capture sequences

Batch Saving – Use saving profiles to save images in multiple sizes & formats with one-click

Long 30,000 hour lamp life

Excellent craftsmanship, free technical support, one-year free software upgrades and one-year warranty
Workflow
Software Controlled 84cm x 74cm x 90cm 360 Photography Light Box

Patented Edge-Driven 55cm Transparent Turntable Platform Holds up to 32kgs

Takes Product Shots on Pure White Backgrounds

Takes Product Shots on Transparent Backgrounds

Creates Web Ready 360 Product Views on Pure White Backgrounds

Dimmable, daylight LED Lighting from Bottom, Back and Corners

Computer-Controlled Photography – Adjust Camera and Light Settings thru USB
---
Simple to Use, No Experience Necessary
Place Object, Preview in Real-Time on Monitor Screen

Control Light and Camera Settings via Software

Click Snap

Pictures Immediately Appear on Monitor Screen

Batch Editing, Processing and Saving

Professional Results

RAW, JPG, PNG, TIFF Output for Still Shots

HTML5 and GIF Output for 360 Product Views
---
Photography Features
Batch Saving - Create and Re-use Custom Saving Profiles. Save and Edit Images Up to 10 Ways with One Click

Batch Image Editing - Includes Levels, Curves*, Brightness, Contrast, Saturation & Sharpness, Auto White Balance*, Hue, Saturation and Brightness, Combo Editing Tools* and More

Save and Re-use Profiles - Lighting, Camera, Turntable and Saving Settings can be Memorized and Re-Used

Large Real-Time Preview

Custom Defined* - Create and Capture Pre-defined Sequences of Images

Consistent, Color Accurate Results

Take product Shots in PNG Format with Transparent Backgrounds

PNG Editing*

AfterImage –Overlay Previous Images on the Preview to Ensure Consistency

Multiple Camera Control*

Highlight Alert*, Histogram and Watermarking*

Automatically FTP Images while Saving*

Pre-Crop – Use Real Time Preview to Crop Before Image Capture

Program Link* – Send Images Directly to PhotoShop, Lightroom or Other 3rd Party Image Editing Applications

Annotate* and eMail* Captured Images

Flexible Camera Positioning – Side Shots and Top Shots

Flexible Studio Design – Enclosed or as an Open Photography Bench

HTML5 Still Shot Magnifier Included*

Focus Control - Auto, Manual and Fixed

Focus Stacking*

Direct Image Export*
---
360 Product Views
360 Product View Types – AutoPlay, SpinOnce, Stationary, SpinBack – Each Features Click-and

Click and Drag Mouse Control

Optional Magnifying Glass, Zoom and Inertia Features

Create 24 Frame 360 Product Views (from beginning to end on pure white) in Less than 3 Minutes per Product

Includes TruView 360 for Advanced Stitching with Audio, Hyperlinks, Deep Zoom, Image Tags and more.

Animations Feature Customizable Look and Feel and Optimized Download Times

HTML5 Animations Can be Viewed on Any Computer or Mobile Device – No Plug-in Required

Animations are Easy to Share Locally, on a Network or Display Online

Spin Range – Create Product Views with a 360, 180, 120 or 90 degree Spin Range
---
*Windows only
"We purchased a Photosimile 200 in 2005. I couldn't be happier with this purchase. It's built like a tank and has paid for itself over and over again. In fact, almost every photo in our online store (minus some big stuff) was shot inside the studio. Over the years, Ortery has added a lot of new features that even make it easier and faster to use. They are a very responsive company. I'm glad to see they have grown, yet it comes as no surprise to me."




GREG SHIELD

VELOCITECH