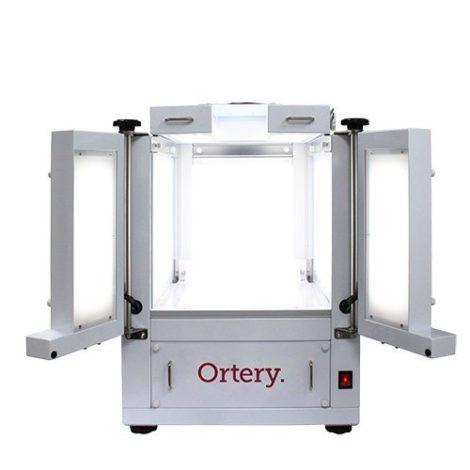 PhotoBench 60
Ortery PhotoBench 60 streamlines still and 360 spin photo photography using high color rendering LED lighting with a built in motorized transparent 360 spin photo platform, compatible camera and image creation software.

Create product shots and 360 spin photos of watches, rings, bracelets and other jewellery. Get pure white backgrounds and immediately use them for the web, print or any application.  The computer-controlled 3D PhotoBench 60 automates image capture, processing and saving to yield the fastest imaging workflows for still and 360 product photography available.
3D PhotoBench 60 offers profesional results with pure white or transparent backgrounds. It makes tedious and difficult product photography simple and efficient.

Features
Take product shots and 360 product views with pure white backgrounds - No editing or background removal necessary.

Computer-controlled photography system automates image capture and processing.

Built-in transparent turntable (holds up to 1kg).

Dimmable LED lighting (daylight) from front, rear, bottom, back and top.

High color rendering LED lamps.

Create 360° animations in HTML5, Flash, Silverlight and GIF formats.

Synchronized picture taking and turntable movement.

One-click image capture, batch saving & stitching.

Ortery TruView 360 (included) for creating 360 animations with deep zoom and image tagging capabilities.

Large real-time preview (See everything before you take it).

Full camera control via software for compatible Canon and Nikon SLR cameras.

360° Image capture by cable release for all capable cameras - custom cord required (sold separate).

Two cable release shooting modes: Fixed Angle 360 and 360 Continuous.

Add interactive Hot Spots on 360° HTML5 animations.

Capture between 4 and 360 images per rotation.

Confirm and Retake feature.



Top and side shot capability.

Achieve maximum consistently between shots with the AfterImage feature.

Magnifier feature for viewing still images and 360° animations up close.

Flexible hardware design accommodates 2D and 3D photography from all angles.

Special diffusion materials and design eliminate and control reflections and hot spots.

Turntable calibration utility ensures accurate angular positioning over time.

Wizard 360 Mode makes it simple for anyone to create a 360° animation.

Advanced 360 Mode utilizes previous settings to create the next animation for maximum throughput.

Shoot with and control several Canon cameras simultaneously to enhance productivity.

Custom define and save image capture sequences utilizing multiple cameras & batch saving.

Advanced Saving Mode: Use preset Profiles to save images in multiple sizes & formats with one-click.

Long 30,000 hour lamp life - System also comes with 4 extra lamps.

Excellent craftsmanship, free technical support, one-year free software upgrades and one-year warranty.
How it Works
Complete  System

PhotoBench 60 features professional studio lighting (LED), a built-in motorized transparent platform and PhotoBench image creation software . With PhotoBench 60, users are able to efficiently capture, compose, process and output high quality still and 360 spin photos with pure white backgrounds ready for use in any application.
43cm x 43cm x 60cm Photography Studio

Ideal for shooting small objects up to 25cm x 25cm x 25cm.
Embedded Transparent Photography Turntable

Built-in transparent turntable (3 lbs. capacity) allows users to automate 360 image capture and processing to create 360 spin photos with pure white backgrounds in HTML5 and Flash formats. Automatically capture between 4 and 360 pictures per revolution.
Professional LED Lighting

Professional photography starts with great lighting. PhotoBench 60 offers professional lighting for taking high quality color-accurate photos. It utilizes high color rendering LED lights that illuminate objects evenly from the corners, back, bottom and top, completely eliminating the need for editing. Lights are dimmable via software.
Control Software

The PhotoBench 60 software works with a compatible Canon or Nikon DSLR camera to automate image capture and processing. Through USB connection, users are able to control studio lighting (dimmable), camera settings, live-view, picture taking and turntable movement with a mouse.
Pure White Background Still Imaging – Simply place a product inside, compose the picture while previewing in real time on the monitor, pre-crop, and then click Snap. The image is automatically downloaded and displayed on the monitor screen within 2 seconds for viewing and batch processing.

Pure White Background 360 Spin Photo Imaging - Capture between 4 and 360 individual images per rotation. The 360 image capture process is completely automated via USB as the software synchronizes picture taking and turntable movement. Captured images can be exported or composed into an interactive 360 product view in HTML5 or *Flash format.
LED Spotlights

3D PhotoBench 60 includes 2 adjustable LED spotlights for enhancing the color of gold, silver, diamonds and other gem stones. These can be positioned inside the studio from the top or through the front door.
JPG/RAW Output

Users have the ability to capture and output JPG and RAW images.
Easy to Use

3D PhotoBench 60 is designed for users of any skill level who require high quality still and 360 product photography. In just minutes, users are able to set up the studio, install the software and get started capturing images with pure white backgrounds.
Product Photography Made Fast & Efficient

By integrating the image creation and processing workflows with software, users are able to eliminate many tedious, time consuming tasks common to the standard product photography workflow. Compose, capture and batch save still shots in just seconds that require no background removal. Create 24 frame 360 product views (from beginning to end) in less than 3 minutes per product. 3D PhotoBench 60 is the ultimate production tool. No project is too large or too small. 3D PhotoBench 60 makes high quality product photography efficient and affordable.
Top Shot & Side Shot Capability

Users have the ability to shoot either through the front using a tripod or from the top down.
Multiple Camera Control

Simultaneously control and take pictures with multiple Canon DSLR cameras attached to the system.
Free Technical Support, One-Year Free Software Upgrades & One-Year Warranty
Large Live Preview

The software displays camera live view as a real-time preview on the computer monitor. In the real time preview, users can control camera settings and crop adjustments to compose the image and see the result before the image is captured. This feature is also great to ensure objects are centered correctly on the turntable before shooting a 360 product view.
Pre-Crop

Use the real time preview to set crop markers before taking still or 360 spin photos. Pictures are automatically cropped as they are captured, eliminating the need for post production. Crop can be set as:
Free Form – Adjust crop as required

Fixed Ratio – Pre-define an aspect ratio that will constrain the crop to a specific size (ex. 4 x 3)

Square – Always crop in a perfect square
Auto, Manual & Fixed Focus

Users have the ability to autofocus OR adjust focus manually on the camera or through the software while viewing a real time preview.  Manual focus can be set once and applied to a set of images in the 360 mode.
*Image Editing

Includes a single or batch color correction tool (includes Levels, Curve, Brightness, Contrast, Saturation & Sharpness) and an image masking tool that allows users to select and change background color.
Still Image Saving

Save images at low or high resolution (72/300 DPI) for a wide variety of print applications. This feature includes batch image renaming, resizing and watermarking.
*Advanced Batch Saving

Create and re-use custom saving profiles to batch save still and 360 images in several formats. Options include individual image:
File name - Assign a specific name based on how you save the image

File format – Still - JPG and RAW, 360 – HTML5 and Flash

Save Location - Batch save images to one or more folders simultaneously

Image Size - Each still or 360 degree image can be resized

Resolution – 72, 150 or 300 DPI

Batch Edit – Auto apply image editing presets

Watermarking – Apply text or logo watermarks to images for increased protection and marketing

Annotations – Include annotations
Individual Frame Export/Import in 360 Mode

The individual JPG and/or RAW images captured in 360 can be exported for use in any application. JPG or PNG* images can then be imported back in for stitching into an interactive 360 view in HTML5 or Flash. During the import images can be batch re-sized and watermarked with a customized logo. Most professionals will export the original files, clean them, then re-import for final stitching.
Integrated 360 Spin Photo Stitching in HTML5 or *Flash Output

Users are able to instantly capture then stitch the images into a 360 spin photo in HTML5 or Flash. When composing the 360 view, users will choose output format, spin direction and rotation speed. All 360 products views include click-and-drag mouse control, dynamic image resizing and optimized download times. A variety of other features can be added to the animations. Including:
Magnifier Tool – Zoom up to 3X

Play, Pause, Frame Left & Frame Right Buttons – Customizable

Rotational Inertia

*Add Frames – Create hot spots in animations that indicate additional information or movement (HTML5 only)
*Custom Defined

Users are able to specify, set and save a sequence of images to be shot. Sequences can utilize one or more cameras placed in different locations.
Custom Animations

In addition to creating 360 spin photos, 3D PhotoBench 60 can also create 180, 120 and 90 degree product views. Over the spin rage selected, users choose the number of pictures to capture.
Image Annotation

Each captured JPG image can be annotated with text and drawings as well as batch edited, printed or sent by email inside the software.
* Windows Only
"It all started with a box, ... software and an off-the-shelf Canon digital camera. Those three items ... helped boost sales 34% and decrease returns from 1.9% of all sales to .6% at SprinklerWarehouse.com"




STEVE OKELBERRY

SPRINKLERWAREHOUSE.COM